FLATCOAT.COM
Home Page
Send us E-Mail
Presenting the Dogs

History of...
Omega Retrievers
Sterling Retrievers
Flat-Coated Retriever

The Adventures of...
Upland Hunting
Duck Hunting
Dog Shows
Dog Less Trips

Buying a Flat-Coat
FCR Pros and Cons
Finding a Breeder
Questions to Ask
Health Clearances
Dog Contracts
The Standard

Training Tips
Show Ring
The Field
Crate Training

FCR Heath
Flat-Coat First Aid
What is Giardia?
Lyme Disease
Spay & Neuter

Flying your FCR

FCR Movement

The Whelping Box

Visitors
Since 2/17/1997

Best when viewed with a Desktop Area of 800 X 600 pixels.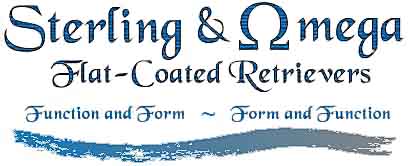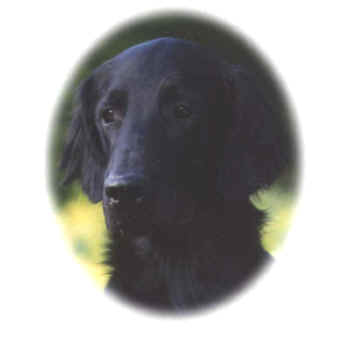 Welcome to Sterling and Omega Flat-Coated Retrievers. This Web site represents our effort to educate and inform dog fanciers about our ethical breeding, training, hunting and showing of Flat-Coated Retrievers since 1972. Omega Retrievers and Sterling Retrievers are proud to present these pages in hopes that education and information will slow the degradation of this fine retrieving dog as popularity and ignorance threaten the purity, versatility, beauty, vitality, and strength of this classic continental retrieving breed.
Since 1984, Omega and Sterling have co-owned and co-bred many Flat-Coated Retrievers. In 1995 Omega and Sterling officially combine our efforts. The joining of Omega and Sterling was a natural progression to a long time friendship. Our combined Kennel bring together complimentary interest and common opinions, breeding practices and ethics.
Omega Retrievers (Yucaipa, California) and Sterling Retrievers (Ontario, California) combined, have over 50 years of personal experience with Flat Coats, and invite you to "surf" the pages of this Web site. We hope that the information presented will aid those who search for one of the most rewarding and fulfilling experiences that life has to offer.
Although together we breed 1 to 2 litters per year, no dogs, puppies, or stud services will be advertised here. As reputable and ethical breeders, we believe that our puppies should only be placed in the homes of those who understand the precious gift these dogs offer. Establishing personal relationships with future custodians of this breed is the best way that we can help insure the prosperity of the Flat Coat.

Photo Credit: Mark Hacker
Sterling Omega's Affirmed (Racer)

*** NOTICE ***
Flatcoat.com, and it's contents is the property of Sterling and Omega Flat-Coated Retrievers. This site is not associated with any club. All articles, photos, and images found here should be considered the property of Sterling and Omega Flat-Coated Retrievers. You must have written permission of Frank Holbert before using anything found on this site. This doesn't mean you won't get permission but, please ask.


Updated 07/12/06