Duck Hunting with the Baharie Brothers
October 10, 1998
Mike Raahauge's, known for Pheasant hunting, provided us with some great duck hunting on the season opener here in Southern California. We dropped 8 ducks, loosing one in the fog, and missed another 221. Brent Baharie brought Kelly, a Flat-Coated Retriever we bred and co-own. Brian Baharie secured the blind for us but arrived without a license, so he spotted ducks for Brent and I. As always we had a great time.
The quote of the day came from the game warden Scott. He arrived to check our stamps and shot and got caught there hiding beside our blind because ducks were coming in. After missing 4 ducks he said; "I'd like to help you guys out but, I don't have duck stamps." We dropped the next duck. It was a matter of saving face.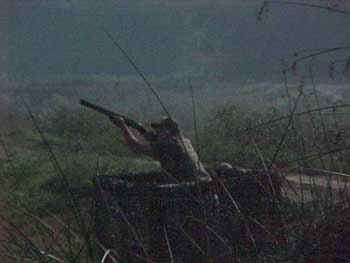 Brian was looking though the camera trying to get a shot of the blind when some Teal came in.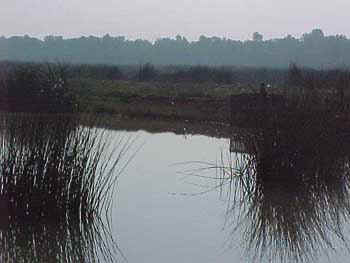 Our duck blind to right of center.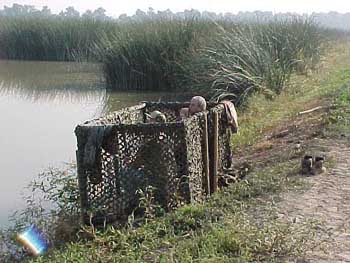 Our blind again after sunrise. Frank scans the skys, Brent call the ducks in.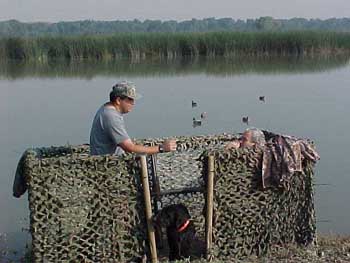 Brian Baharie (standing), Brian got us the duck blind.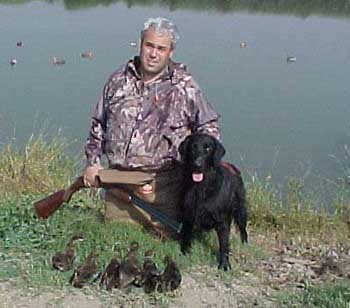 Brent Baharie with Flat-Coated Retriever, Ch. Sterling Omega's Affection (Kelly) and dinner.


Updated 10/14/98