FLATCOAT.COM
Home Page
Send us E-Mail
Presenting the Dogs

History of...
Omega Retrievers
Sterling Retrievers
Flat-Coated Retriever

The Adventures of...
Quail Hunting
Duck Hunting
Dog Show

Buying a Flat-Coat
FCR Pros and Cons
Finding a Breeder
Questions to Ask
Health Clearances
Dog Contracts
The Standard

Training Tips
Show Ring
The Field
Crate Training

FCR Heatth
Flat-Coat First Aid
What is Giardia?

Flying your FCR

FCR Movement

The Whelping Box

Favorite Links
flat-coated retriever puppy flatcoated retriever pictures flat coated retriever puppy flat coat photos flatty flat-coated dog breeder akc breed judge akc licensed judge sporting group judge best in show best of winners winners dog winners bitch dog show golden retriever grcgla grca labrador retriever canine akc retriever hunting test judge master hunter senior hunter junior hunter akc hunting test program working certificate excellent field training dog obedience training dog training cdx utility dog excellent ud udx agility dog excellent ad adx whelping box crate training sterling and omega kennel club of riverside kennel club gwfcrc great western flat-coated retriever club fcrsa frank holbert adrienne ayles roger orton peachie orton bunky orton ontario california yucaipa california southern california
To The Dogs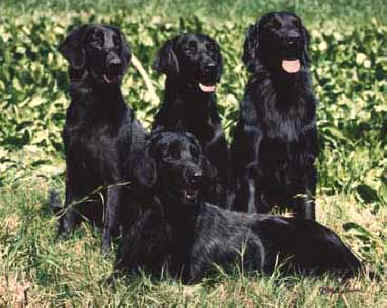 Here are some of the special dogs owned or co-owned by Sterling and Omega Retrievers. All of these dogs were owner trained and handled to these titles. Many of these stories were written by the owners of these wonderful dogs. Watch this list grow!!
Ch. Casablanca's Amadeus (Wolfie)

Ch. Casablanca's Black Ruffles UDX (Ruffy)

Ch Casablanca's Bold Quest AAD AX CDX JH WC (Quest)

Ch. Casablanca's Charisma JH, WCX (Betsy)
Heronsflight Hope (Hope)
Ch. Mandigo's Express of Wyndham CD (Expo)
Ch. Omega's Bedazzlin' Sunset (Dazzle)

Ch. Omega's Final Coundown UD (Sport)

Ch. Omega's International Ike CDX, WC (Ike)

Ch. Omega's Jump for Joy (Jump)

Ch. Omega's Limited Edition (Fritz)

Ch. Omega's Quiet Riot (Riot)

Ch. Omega Sterling Best Smile (Grinner)
Ch. Omega's Verdict Is In JH, WCX (Justice)
Ch. Omega's Visit to Sterling (Cheers)

Omega's Whatta Riot AX OA NAC NJC NGC (Trever)

Ch. Quillquest Harvest JH, WCX (Feathers)

Ch. Quillquest Legend (Hunter)

Simon The Rescue Dog (Simon)

Ch. Sterling Omega Affection (Kelly)

Sterling Omega's Affirmed (Racer)
Wymdham's Eagle (Lefty)
Ch. Wyndham's Javelin (Chipper)

The Outcasts...
Majestic's Christmas Joy MH, WCX

Wingmaster's Storm Front

Updated 12/15/98