FLATCOAT.COM
Home Page
Send us E-Mail
Presenting the Dogs

History of...
Omega Retrievers
Sterling Retrievers
Flat-Coated Retriever

The Adventures of...
Quail Hunting
Duck Hunting
Dog Show

Buying a Flat-Coat
FCR Pros and Cons
Finding a Breeder
Questions to Ask
Health Clearances
Dog Contracts
The Standard

Training Tips
Show Ring
The Field
Crate Training

FCR Heatth
Flat-Coat First Aid
What is Giardia?

Flying your FCR

FCR Movement

The Whelping Box

Favorite Links
flat-coated retriever puppy flatcoated retriever pictures flat coated retriever puppy flat coat photos flatty flat-coated dog breeder akc breed judge akc licensed judge sporting group judge best in show best of winners winners dog winners bitch dog show golden retriever grcgla grca labrador retriever canine akc retriever hunting test judge master hunter senior hunter junior hunter akc hunting test program working certificate excellent field training dog obedience training dog training cdx utility dog excellent ud udx agility dog excellent ad adx whelping box crate training sterling and omega kennel club of riverside kennel club gwfcrc great western flat-coated retriever club fcrsa frank holbert adrienne ayles roger orton peachie orton bunky orton ontario california yucaipa california southern california
Sport
CH. Omega's Final Coundown UD
Ch. Bertschires Doc Holiday CDX, WCX x Ch. Omega's Bedazzlin' Sunset
December 7, 1982 - August 29, 1992
By Roger Orton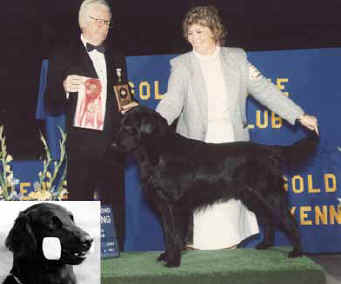 Sport had a special beginning to his life. He was placed on a co-ownership at 8 weeks of age. By the time he was a year old, the owner had quit communicating with us so Peachie paid a surprise visit to Sport. She found that at 13 months of age he weighed 37 pounds, was severely neglected, and near death. Needless to say, Sport came home with Peachie. He was nursed back to health over a period of several months and miraculously suffered no permanent health damage.
From the day he came home he became a very special dog. One would think that he knew we saved him and he showed his gratitude. He became a very happy and very attentive dog. By age 2 he had finished his Championship and was ranked in the top ten Flat Coats in the USA. He began his obedience career at the age of 4 and by 5 he had his CD, his first leg on his CDX, and his first All-Breed High in Trial from the Open class. He went on to earn his CDX title with scores of 198++, 196, and 195, earning the Dog World Award of Canine Distinction. Sport competed on two winning teams for the Orange Empire Dog Club at the Top Dog Obedience Competition, winning the Open Catagory at one competition. He also competed in a Gaines Classic National Obedience Competition placing fifth in the Open catagory. At the 1988 FCRSA National Specialty he received a Judges Award of Merit in the Breed Ring and also went High in Trial from the Open B class with a score of 198.5. We believe that this was the only time a HIT dog has received a JAM or better award at the same FCRSA National Specialty.
In the Breed Ring Sport was Nationally ranked in the top 10 Flat Coats for 3 consecutive years, in the top 5 twice, and placed in numerous Sporting Groups including a Group 2 at the prestigious Golden Gate Kennel Club's benched show in 1989.
At the mature age of 9, Sport completed his utility degree with qualifying scores in the 190's. He passed away from cancer 3weeks after completing his UD degree. He was one of the happiest, proudest, and typiest dogs we ever owned. A group judge while trying to examine Sport once told us that there was such a thing as "too happy a dog" because his tail wagged so hard his rear would rock back and forth. I replied that Sport didn't agree.
Sport left us as he came to us, unexpectedly and with lasting impact.

Updated 09/27/98