FLATCOAT.COM
Home Page
Send us E-Mail
Presenting the Dogs

History of...
Omega Retrievers
Sterling Retrievers
Flat-Coated Retriever

The Adventures of...
Quail Hunting
Duck Hunting
Dog Show

Buying a Flat-Coat
FCR Pros and Cons
Finding a Breeder
Questions to Ask
Health Clearances
Dog Contracts
The Standard

Training Tips
Show Ring
The Field
Crate Training

FCR Heatth
Flat-Coat First Aid
What is Giardia?

Flying your FCR

FCR Movement

The Whelping Box

Favorite Links
flat-coated retriever puppy flatcoated retriever pictures flat coated retriever puppy flat coat photos flatty flat-coated dog breeder akc breed judge akc licensed judge sporting group judge best in show best of winners winners dog winners bitch dog show golden retriever grcgla grca labrador retriever canine akc retriever hunting test judge master hunter senior hunter junior hunter akc hunting test program working certificate excellent field training dog obedience training dog training cdx utility dog excellent ud udx agility dog excellent ad adx whelping box crate training sterling and omega kennel club of riverside kennel club gwfcrc great western flat-coated retriever club fcrsa frank holbert adrienne ayles roger orton peachie orton bunky orton ontario california yucaipa california southern california
Web Sites Worth Seeing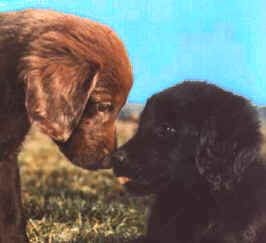 Sterling and Omega Retrievers would be happy to link this page to other dog related sites. We're always looking for sites created by Flat-Coated Retriever owners. If you own a site and would like it linked here please send Frank Holbert email with your URL. Sterling and Omega will not link to sites that advertise dogs, puppies, stud service or upcoming litters for sale and we will not link to lists of breeders.
Flat-Coated Retriever Links
Cindy Tittle Moore's - Flat-Coated Retrievers

Flat-Coated Retriever Owners Links
Larry Lachman, M.S., M.A. Animal Behavior Consultant
Some good info here. FAQ's
SJCh LP Inkwells Jingle Bell's Home Page

Other Dog Related Links
Bird Dog & Retriever News Magazine
Dog-Play-Having Fun With Your Dog
Mary Jo Sminkey's, The Dogpatch
(you could spend days on this site)
The Pet Loss Grief Support Page

Hunting Sites
Kansas and Missouri Hunting Service

Commercial Sites
Canidae Dog Food - What we feed
Laura Rogers Flat-Coated Retriever Stuff

Dog Show Superintendents

My Other Web Sites
160knots.com
A Web site dedicated to our weekend trips in our Super Viking.
HomeWx.com
The weather station at my house.

Updated 06/30/06