FLATCOAT.COM
Home Page
Send us E-Mail
Presenting the Dogs

History of...
Omega Retrievers
Sterling Retrievers
Flat-Coated Retriever

The Adventures of...
Quail Hunting
Duck Hunting
Dog Show

Buying a Flat-Coat
FCR Pros and Cons
Finding a Breeder
Questions to Ask
Health Clearances
Dog Contracts
The Standard

Training Tips
Show Ring
The Field
Crate Training

FCR Heatth
Flat-Coat First Aid
What is Giardia?

Flying your FCR

FCR Movement

The Whelping Box

Favorite Links
flat-coated retriever puppy flatcoated retriever pictures flat coated retriever puppy flat coat photos flatty flat-coated dog breeder akc breed judge akc licensed judge sporting group judge best in show best of winners winners dog winners bitch dog show golden retriever grcgla grca labrador retriever canine akc retriever hunting test judge master hunter senior hunter junior hunter akc hunting test program working certificate excellent field training dog obedience training dog training cdx utility dog excellent ud udx agility dog excellent ad adx whelping box crate training sterling and omega kennel club of riverside kennel club gwfcrc great western flat-coated retriever club fcrsa frank holbert adrienne ayles roger orton peachie orton bunky orton ontario california yucaipa california southern california
FLYING WITH YOUR FLAT-COAT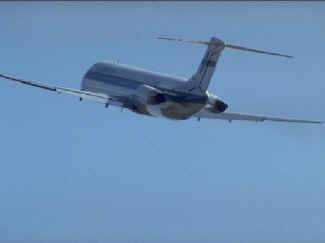 Written by Peachie Orton of Omega Retrievers in 1988 for the FCR National Specialty.
(Please note - that these are personal suggestions meant to aid you in your journey, and are by no means hard and fast rules. Adopt them if they make sense to you.)
Traveling by air with your Flat Coat can be a very simple, relaxed proposition. You can avoid all the hassle and horror story scenarios if you follow some simple step-by-step procedures. By and large, airline employees are people too, you will find that although they work for a large, bureaucratic organization, most love dogs and will do all in their power to protect the safety and well being of your dog. If, however, you get the slightest inkling that you are dealing with another kind of person, don't be afraid to climb right over that person to their supervisor to satisfy your peace of mind. Remember these people's jobs depend on your business.
It all begins when you are checking out your choice of airlines. First question: Do they take dogs? Then, Do they have a direct flight to your destination? If they do not have a direct flight, do they at least have a flight that does not involve a plane change? If the answer is no, check another airline! Direct, same-plane flights may cost a little more, but you cut your chances of being separated from your dog to almost nothing. The peace of mind is well worth it! If there is just no way you can get a flight from any airline that is a direct, single-plane flight, then you should request a layover of at least two hours at any stop where a change of planes will occur. This way you have the opportunity to make sure all is going right before you and your dog take off again. You also have the opportunity to exercise and water your dog at the layover point.
Okay, you've got your flight; it's the day before departure. Call the airline and confirm both your and your dogs flight and ask where to check your dog in. Unless there is a medical reason, do not tranquilize or sedate your dog. Dogs are more apt to have side effects from the drug than to the flight itself. You may be a nervous flier, but don't assume your dog is too. To him it's just another ride to the show. Feed lightly the day before. Mark your crates prominently with the following information: Name, Address, Phone #, "LIVE ANIMAL", "DO NOT OPEN CRATE", destination, Dogs name if you wish. Toys or rugs in the crate should be large enough not to be eaten or choked on. Your dog will be out of sight for 1 - 5 hours so don't take chances on smaller toys.
Departure Day - make sure your dog has plenty of time to eliminate before you get him to the airport. Arrive at the terminal early. Be parked, unloaded, and inside the terminal at least one hour prior to departure. When you arrive at the terminal let the sky cap take and route as much of your gear as possible - except dogs. Do not let them out of your sight until you have checked them in at the counter. After checking your dog in, usually through the passenger counter, firmly request to escort your dog to the area where he will await the flight; usually through a side door that goes behind the check in desk. This request can usually, although not always be accommodated. Generally speaking, don't be intimidated. If you have questions or reservations about something, politely but firmly ask! Don't be put off. Most airline personnel are very cooperative, but don't be afraid to inform them politely that you have a valuable show dog worth their annual salary, and that you are concerned. Stay with your dog as long as possible; until he is transferred for loading. Do not leave choke chains on your dog or leashes inside his crate. Do not leave water in his crate, you know what a Flat Coat will do with that. And make sure his crate is totally secure; that there is no way that he can get out of it. From now until you see your dog again, carry his leash on your person. Don't check it with any of your baggage, carry it on and off the plane with you. Your next move is to your departure gate. Find your plane through the window. Ask an attendant if you are not sure. Then get comfortable and watch the cargo being loaded. Dogs usually are loaded last, but not always. If your boarding is called before your dog is loaded, inform the attendant that you are waiting to see your dog on board. Its not a bad idea to have marked your luggage with fluorescent yarn or something and look for that being loaded as well. When you enter the plane stick your head inside the cockpit ( politely tell the attendant that you'd like a word with the captain) and inform the crew that they have show dogs on board. They probably know this already but it never hurts to be sure. When your plane lands, go to an empty row of seats above the cargo door and wait to see your dog come off the plane! It's easier to do it then, than to worry about it inside the terminal.
If you are traveling alone, go directly to the area where your dog will be delivered. Usually this is in the baggage claim area, but check with the flight attendant or baggage claim attendant. There may be a special area where your dog will be delivered. After you have received your dog and watched his happy tail wagging then you can arrange for your ground transportation.
Finally, a note about baggage. It's not a bad idea to take a small carry on piece of luggage containing enough essentials to get you and your dog through a day or two just in case your baggage goes somewhere else. Also, clear permanent ID and some unique marking makes your luggage easier to spot. Remember, it's far better to have strange looking luggage in your hand than to have beautiful, designer luggage in some other city. Finally, don't be afraid to take unusual baggage with you. Call the airline for restrictions. On our last trip to Cleveland we took 4 Dogs, 4 Crates, 2 Exercise pens (36"), Roller Cart, Shade Cloth, Blow Dryer, and what seemed like 50 pounds of dog food. We stuffed it in bags and what wouldn't fit was bungied to the roller cart and checked in like that. You'd be surprised what a smile and a polite but confident attitude will get you. All that didn't cost a penny more other than the cost for the dogs.
By following these simple steps, you and your dog will have arrived safe and sound in California, ready for the times of your life! Good Luck.


Updated 09/27/98