FLATCOAT.COM
Home Page
Send us E-Mail
Presenting the Dogs

History of...
Omega Retrievers
Sterling Retrievers
Flat-Coated Retriever

The Adventures of...
Quail Hunting
Duck Hunting
Dog Show

Buying a Flat-Coat
FCR Pros and Cons
Finding a Breeder
Questions to Ask
Health Clearances
Dog Contracts
The Standard

Training Tips
Show Ring
The Field
Crate Training

FCR Heatth
Flat-Coat First Aid
What is Giardia?

Flying your FCR

FCR Movement

The Whelping Box

Favorite Links
flat-coated retriever puppy flatcoated retriever pictures flat coated retriever puppy flat coat photos flatty flat-coated dog breeder akc breed judge akc licensed judge sporting group judge best in show best of winners winners dog winners bitch dog show golden retriever grcgla grca labrador retriever canine akc retriever hunting test judge master hunter senior hunter junior hunter akc hunting test program working certificate excellent field training dog obedience training dog training cdx utility dog excellent ud udx agility dog excellent ad adx whelping box crate training sterling and omega kennel club of riverside kennel club gwfcrc great western flat-coated retriever club fcrsa frank holbert adrienne ayles roger orton peachie orton bunky orton ontario california yucaipa california southern california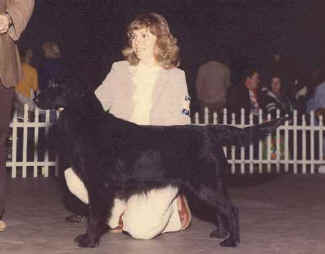 Roger & Peachie Orton brought the first of two Flat-Coated Retrievers to the western United States in 1971. She was 4 months old and her name was Athercroft's Gamble on Rolla, and was the first Flat-Coat owned and shown in California. Although she completed her Championship, she was never bred. She was out of Ch. Claverdon Gamble by Ch. Sassacus Arr Rolla. While working her in the field she came up lame and was diagnosed with a luxating patella of undetermined origin. She was spayed so she was not our foundation bitch. Since then we have bred 30 litters and over 60 Champions, many of which held multiple field and obedience titles. Our breeding program has produced High in Trial dogs, tracking dogs, hunting retriever dogs and an All Breed Best In Show dog. All of these dogs have been owner trained and handled. Roger has been an AKC judge since 1988, he has given numerous seminars to judges workshops, National Specialty Symposiums, and the AKC Judges Institute. Along with our son, Bunky, we continue to be active in the show ring and strive to consistently improve their breeding program.
In the early years the main focus was field work and hunting. We hunted quite a bit in the 70's and early 80's. We also ran the first Flat-Coats in California "Picnic Trial" at the time. Although many of the Omega dogs have acquired field and obedience titles in the following years, as the family grew and field access in Southern California became scarce, the focus shifted to showing.
Special Flat-Coats, "aren't they all special"? If I had to name three, they would probably be: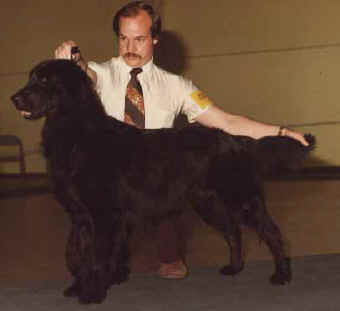 Ch. Wyndham's Javelin, Born 1976, by Ch. Wyndhamian Dash WC out of Ch. Claverdon Gossamer WC. He was our foundation Stud Dog. Chipper was a great gun dog, clever, and better in the front end than anything we've seen then or since. He was a handsome showman and a gentleman and was still placing in the sporting group at the age of eleven.
Int Mex.Am. Can. '78 World Ch. Mandigo's Screamin' Demon, Born 1974, by Ch. LaDeJa's Black Bart CDX out of Ch. Wyndhamian Devil CD WC. She was our foundation bitch, a top producer, and won the International Field Trial in Mexico City in 1979. She was a true show girl who always showed like she was the only dog the judge would look at! She was hard driving in the field and always knew what she was about. Also a great house dog and family pet.

Ch. Omega's Final Countdown UD, Born 1982, by Ch. Bertschire's Doc Holiday CDX WCX out of Ch. Omega's Bedazzlin' Sunset. He was extremely typey with an attitude that just wouldn't quit, and was our first multiple group placing, multiple High in Trial dog. He had one of the finest head pieces we have ever seen. Unfortunately, he did not produce himself.
Of honorable mention should be one of the current dogs, Ch. Omega's Quiet Riot, co-owned with the Galvin's of Rocky Point, New York. He is by Ch. Omega's International Ike CDX WC, a son of the foundation stud Chipper, out of Ch. Omega's Jump For Joy, a granddaughter of the foundation bitch Demon. Riot has two Best In Show wins. He has many group wins and placings, the #1 Flat-Coated Retriever for 1996, won the Westminster KC breed in 1995, and was number two Flat-Coat in the US in 1994. He is a good solid all around dog with a great attitude. It seems like that Flat-Coat attitude is a common factor in all the Orton's favorite dogs.
The foundation bitch, Demon, was the third Flat-Coat we owned. The first two, although nice bitches and both Champions, each had faults or medical problems that proved them to be, "in our minds, not of breeding quality".

Updated 09/27/98