Dazzle
Ch. Omega's Bedazzlin' Sunset
Ch. Wyndham's Javelin x Int. Mex. Am. Can. '78 World Ch. Mandigo's Screamin' Demon
July 7, 1980 - May 24, 1993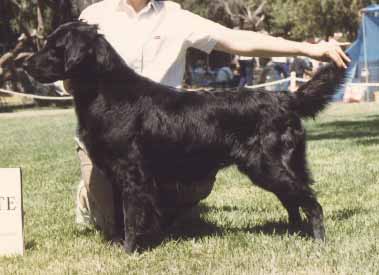 by Candy Ferner
The little girl had never seen a Flat-coat before, but she knew this was a very special dog. A shiny black coat, intelligent dark eyes, gently wagging tail. She lay quietly on her bench, begging the girl to pet her.
"What's her name?" the little girl asked.
"Her name is Dazzle" Karen replied.
"Daddy, can I have this dog?"
Then to Karen's amazement the little girl's father offered her five thousand dollars .
"But she's not for sale" she stammered.
"Everything has a price " he replied.
But Karen Sack was not about to sell her once in a lifetime dog, Ch Omega's Bedazzlin' Sunset.
John and Karen Sack had just gotten into Flat-coats when Peachie Orton offered them co-ownership on a promising young bitch who had recently finished her championship. Peachie believed Dazzle was specials quality and would make an excellent brood bitch. That certainly turned out to be true. Dazzle won her last group placement at ten years of age and was the Great Western Flat-coated Retriever Club brood bitch of the year for five years in a row!
In 1982 Dazzle was bred to Ch Bertshire's Doc Holliday CD, WCX. The result of this mating became the Alpha "A" litter and the Omega "F" litter. There were five puppies in the litter, three were shown and finished; Ch Omega's Fame and Fortune CD, JH, WCX, Ch Omega's Final Countdown UD (Sport), and Ch Omega's Flair of Dexmoor CD, JH WC (Tootsie). Sport had a very successful show & obedience career, the highlight being the 1988 National Specialty where he won a Judges Award of Merit and was High in Trial! Tootsie was the foundation bitch for George and Judy Dexter's Dexmoor Kennel and produced some great dogs including Ch Omega's International Ike and Ch Dexmoor's Always On My Mind (dam of 14 champions).
Dazzle's second litter was sired by Ch Hillbrook's Royal Athercroft. This litter included Ch Alpha's Benefactor (Cody), Ch Alpha's Boy in Blue CD, Ch Omega's Jumpin' Jack Flash and Ch Omega's Jump For Joy. Jump is a group placer who won a Jam at the 1995 Specialty from the Veteran's class. She is also the dam of Best in Show winner, Ch Omega's Quiet Riot. Cody won his first group placement from the classes and won a Jam at the 1988 specialty. His mating to Ch Windfall's Profit UD, MH, WCX*** produced Hall of Fame litter mates Ch Windfall's Charisma CDX, MH,WCX** and Ch Windfall's Cag Capt Maverick UDX, SH, WCX.
Dazzle took matters into her own paws for her third breeding, choosing her house mate, Chance, as the father of the Alpha "C" litter. These pups, although not placed in show homes, became fine family companions. Dazzle was determined to have this litter her own way and tried to whelp her pups in a puddle!
Along with producing beautiful puppies, Dazzle is remembered for her gorgeous coat and lovely movement. She loved dog shows and exuded happiness in the ring. Possibly her best feature was her sweet, loving temperament. "How do you describe a dream?" muses Karen. "I still miss her tremendously." Certainly Dazzle made a mark on the world of Flat-coats. But she also made a mark on the hearts of her friends and fans, like the little girl at the Golden Gate Kennel Club and Karen Sack.
Breeders: Roger and Peachie Orton
Owners: Roger and Peachie Orton and John and Karen Sack

Updated 09/27/98