FLATCOAT.COM
Home Page
Send us E-Mail
Presenting the Dogs

History of...
Omega Retrievers
Sterling Retrievers
Flat-Coated Retriever

The Adventures of...
Quail Hunting
Duck Hunting
Dog Show

Buying a Flat-Coat
FCR Pros and Cons
Finding a Breeder
Questions to Ask
Health Clearances
Dog Contracts
The Standard

Training Tips
Show Ring
The Field
Crate Training

FCR Heatth
Flat-Coat First Aid
What is Giardia?

Flying your FCR

FCR Movement

The Whelping Box

Favorite Links
flat-coated retriever puppy flatcoated retriever pictures flat coated retriever puppy flat coat photos flatty flat-coated dog breeder akc breed judge akc licensed judge sporting group judge best in show best of winners winners dog winners bitch dog show golden retriever grcgla grca labrador retriever canine akc retriever hunting test judge master hunter senior hunter junior hunter akc hunting test program working certificate excellent field training dog obedience training dog training cdx utility dog excellent ud udx agility dog excellent ad adx whelping box crate training sterling and omega kennel club of riverside kennel club gwfcrc great western flat-coated retriever club fcrsa frank holbert adrienne ayles roger orton peachie orton bunky orton ontario california yucaipa california southern california
Feathers
Ch. Quillquest Harvest JH, WCX
Heronsflight Burnet JH x Quillquest Eurydice CD
August 19, 1986 - October 17, 1998
by Adrienne Ayles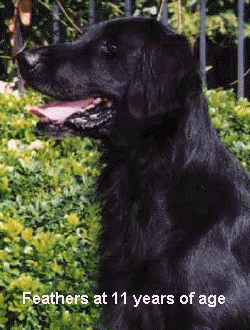 I got a phone call from Gillian Impey one Sunday morning and she said, "I've picked out your puppy". I said "How is that, the puppies are not even 3 weeks old yet?" Gillian said, "She was the first one that figured out how to get out of the whelping box and there is always something special about the first puppy out of the whelping box."
Gillian sent Feathers to California at about 8 weeks old. We couldn't get a non-stop flight, and the airlines made a few, shall we say mistakes. Feathers finally landed in California 16 hours after Gillian put her on the plane in New Jersey. We weren't sure what to expect after such an ordeal. When we finally got to her crate, opened the door and called to her, out bounded this fuzzy little puppy that jumped into my arms and started licking my face.
Feathers has always been a fun dog. She finished her championship in nice style at a young age and was always fun to train in the field. Her boundless energy and love for retrieving never cease to amaze me. In the field Feathers had excellent marking ability and good nose. In Feathers younger days, you could help but stop and watch when she would run a mark. She would run so hard and fast, you were sure she was going to overrun the mark. But all the sudden the brakes would go on and she would pick up the mark and charging back.
Today Feathers mainly keeps track of next mealtime, has fun at an occasional supported entry Veteran Bitch class and has fun chasing the Kong toy with the younger dogs. At eleven, she only has a few gray hairs, jumps around like a young dog and enjoys life as only a Flat Coat can. Gillian was right, the first dog out of that whelping box was something special.
Breeder: Gillian Impey
Owner: Adrienne Ayles, Peachie Orton, Bunky Orton & Neal Goodwin

Updated 11/18/98