FLATCOAT.COM
Home Page
Send us E-Mail
Presenting the Dogs

History of...
Omega Retrievers
Sterling Retrievers
Flat-Coated Retriever

The Adventures of...
Quail Hunting
Duck Hunting
Dog Show

Buying a Flat-Coat
FCR Pros and Cons
Finding a Breeder
Questions to Ask
Health Clearances
Dog Contracts
The Standard

Training Tips
Show Ring
The Field
Crate Training

FCR Heatth
Flat-Coat First Aid
What is Giardia?

Flying your FCR

FCR Movement

The Whelping Box

Favorite Links
flat-coated retriever puppy flatcoated retriever pictures flat coated retriever puppy flat coat photos flatty flat-coated dog breeder akc breed judge akc licensed judge sporting group judge best in show best of winners winners dog winners bitch dog show golden retriever grcgla grca labrador retriever canine akc retriever hunting test judge master hunter senior hunter junior hunter akc hunting test program working certificate excellent field training dog obedience training dog training cdx utility dog excellent ud udx agility dog excellent ad adx whelping box crate training sterling and omega kennel club of riverside kennel club gwfcrc great western flat-coated retriever club fcrsa frank holbert adrienne ayles roger orton peachie orton bunky orton ontario california yucaipa california southern california
Hunter
Ch. Quillquest Legend
Ch. Quillquest's Black Swift x Ch. Quillquest's Entertainer
by Brent Baharie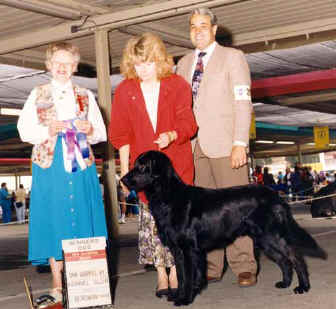 Hunter is my first foray into the world of Flat Coated Retrievers and started me on an oddacy that has yet to end. As many Flat Coat owners I have the skeleton in my closet of being a previous Golden Retriever fancier. Finally after 2 goldens, and quite frankly becoming somewhat disenchanted with the breed and their health problems I set out on the journey of choosing a new breed for myself. After some research I decided that Flat Coated Retrievers were the breed for me. Now, after owning goldens, who was to know that a FCR breeder was not available on every corner? I soon found out that they were not.
After several weeks of searching for a breeder I was all but ready to give up till I happened upon ad in Dog Fanciers Magazine for Sally Terroux in Colorado. At this point in the story, Monty Python's skit on the Spanish inquisition comes to mind. I loved that skit as a kid, but never really thought I would live it! I called Colorado for what I thought would be a quick routine call to find out who the breeders were in California. Mrs. Terroux grilled me for about an hour and finally after knowing basically my life history consented to give me the name of 2 breeders in California. The Ortons were one of those breeders who's name I was given so I got on the phone and called them. Again a woman (Peachie) grilled me for almost an hour and I was beginning to get the idea that maybe these FCR breeders were a little different. At the end of my time in the hot seat, I was invited to visit their kennel that sounded like it was in the middle of nowhere, but the Ortons had no puppies at the time. Peachie did give me the name of another breeder who she knew had puppies. This time armed with the knowledge that I would be grilled and comfortable that I now knew the right answers I called Casablanca kennels and talked with Adrienne Ayles. I got off easy this time after only 30 minutes I was told that there were only 2 little girl puppies left, but that they had a boy 1 ½ years old who they might want to place. When I went to Adrienne and Neal's, Hunter and I bonded quickly and shortly before Thanksgiving that year he was home with me.
Hunter is a California transplant. He was born in New Jersey where Gillian Impey breed his mom, Quillquest's Entertainer to his dad, Quillquest's Black Swift. He did however come to California very young and quickly developed a lay back California attitude. Hunter learned a lot from group at Casablanca Kennels, but his favorite trick was to bite garden hose into 3 foot sections, a trick he quickly adapted to irrigation tubing when he arrived at my house! Hunter quickly became not only a pet but also a friend. Anywhere I went hunter wanted to be there too and that even included going to work with me at night when I was on call (I'm an anesthesiologist) and waiting for me in the car and then going home. Together he and I explored and discovered most of California's central coast. This arrangement worked out well for 3 years until a friend at work who was into border terriers decided to show them and convinced me that I should do the same with Hunter. Hunters show carrier started when I was able to again get in contact with Adrienne and she agreed to show him at something called a supported entry (whatever that was!) at the Los Encinos Show in December of 1995 if I brought him there clean and bathed. "Boy" I was thinking how simple can this show stuff be? I soon found out how simple it was not! After the ear trim, blow dry, moose, comb, and a little bit of ring training hunter was ready to go. He took a reserve winners dog that day and I was thinking I had it made. Hunters ring career to him till May of the next year where he finished his championship at the Mission Circuit Shows. In all he had points put on by Adrienne, Neal and me. As a part of that ring career hunter was at the 1995 National Specialty in Anaheim. Even though we were only there for the show stuff, we learned a whole lot more and discovered this all-consuming passion called a hunt test. Adrienne cohurst me into being a popper for master hunter at the
test. Something about watching those dogs do what they seemed to want to do so effortlessly hooked me and I decided Hunter and I had to try this.
We trained with the help of a local trainer and we both enjoyed it After I got over the trauma of the ear pinch thing and some basic obedience, we did all right and hunter and I both had a good time. Hunter caught on quick, inspite of my lack of ability, but I did find out something curious about him. It seems Hunter has doggie attention deficit disorder. You see Hunter knows how to retrieve but, if it takes to long to figure out or if there is a fun weed to pee on or if something else gets his attention then he is gone. It can be frustrating but hey I am sure he gets frustrated with the lines I give him too.
Hunter and his devotion and need for companionship lead me to get another FCR, a bitch named Kelly who he adores, but she is a different story. As you can see all that I am or ever will be in this breed is due to Hunter, is it any wonder he is my 4-footed best friend?
Owners: Brent Baharie, Adrienne Ayles and Neil Goodwin
Breeder: Gillian Impey

Updated 09/27/98