FLATCOAT.COM
Home Page
Send us E-Mail
Presenting the Dogs

History of...
Omega Retrievers
Sterling Retrievers
Flat-Coated Retriever

The Adventures of...
Quail Hunting
Duck Hunting
Dog Show

Buying a Flat-Coat
FCR Pros and Cons
Finding a Breeder
Questions to Ask
Health Clearances
Dog Contracts
The Standard

Training Tips
Show Ring
The Field
Crate Training

FCR Heatth
Flat-Coat First Aid
What is Giardia?

Flying your FCR

FCR Movement

The Whelping Box

Favorite Links
flat-coated retriever puppy flatcoated retriever pictures flat coated retriever puppy flat coat photos flatty flat-coated dog breeder akc breed judge akc licensed judge sporting group judge best in show best of winners winners dog winners bitch dog show golden retriever grcgla grca labrador retriever canine akc retriever hunting test judge master hunter senior hunter junior hunter akc hunting test program working certificate excellent field training dog obedience training dog training cdx utility dog excellent ud udx agility dog excellent ad adx whelping box crate training sterling and omega kennel club of riverside kennel club gwfcrc great western flat-coated retriever club fcrsa frank holbert adrienne ayles roger orton peachie orton bunky orton ontario california yucaipa california southern california
Trevor
Omega's Whatta Riot AX OA NAC NJC NGC
Ch Omega's Quiet Riot x Ch Athercroft If Rooks Could Kill
DOB March 19, 1995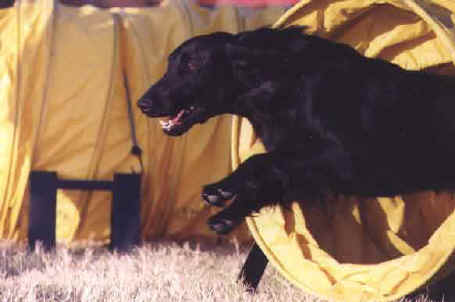 by Tammy Wilson
Trevor came to live with me when he was a year old. We had too many dogs at the time (unfortunately, that situation changed far too quickly) and we were not sure it was a good idea, but I couldn't pass him up. Quest and I had gotten very involved in agility, and were having a great time. But Quest was really too big and heavy to really be competitive. Peachie and Adrienne told me about a young dog they were thinking of placing in a "working" home. Peachie had kept him hoping he would be their next big show dog. And the more they told me, the more I just had to see this dog. I've never regretted that decision. He was everything they said and more. Unfortunately for them and fortunately for me he was too small. At just over 22" and 50 pounds he is a natural for agility. He jumps effortlessly, even over 30" jumps. It doesn't look like speed will be a problem either.
His career is just starting, but he already shows a lot of promise. He finished his Novice Agility title just before the Mission Circuit and moved up to Open for that show. He qualified in 3 out of 4 days to earn his Open Agility title at the Mission Circuit.
Some day we will give obedience and the field a try. He is birdy and loves to swim. And he has great natural attention. He may be the competitive obedience dog I was looking for before I got hooked on agility... now, if only we can find enough time!
Owners: Tammy Wilson, Adrienne Ayles & Peachie Orton
Breeders: Peachie Orton & Bunky Orton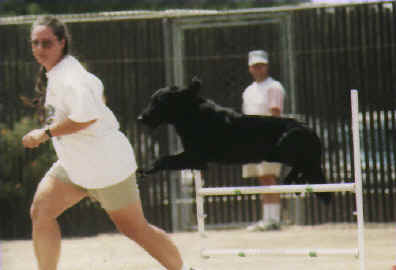 Updated 12/15/98