FLATCOAT.COM
Home Page
Send us E-Mail
Presenting the Dogs

History of...
Omega Retrievers
Sterling Retrievers
Flat-Coated Retriever

The Adventures of...
Quail Hunting
Duck Hunting
Dog Show

Buying a Flat-Coat
FCR Pros and Cons
Finding a Breeder
Questions to Ask
Health Clearances
Dog Contracts
The Standard

Training Tips
Show Ring
The Field
Crate Training

FCR Heatth
Flat-Coat First Aid
What is Giardia?

Flying your FCR

FCR Movement

The Whelping Box

Favorite Links
flat-coated retriever puppy flatcoated retriever pictures flat coated retriever puppy flat coat photos flatty flat-coated dog breeder akc breed judge akc licensed judge sporting group judge best in show best of winners winners dog winners bitch dog show golden retriever grcgla grca labrador retriever canine akc retriever hunting test judge master hunter senior hunter junior hunter akc hunting test program working certificate excellent field training dog obedience training dog training cdx utility dog excellent ud udx agility dog excellent ad adx whelping box crate training sterling and omega kennel club of riverside kennel club gwfcrc great western flat-coated retriever club fcrsa frank holbert adrienne ayles roger orton peachie orton bunky orton ontario california yucaipa california southern california
Kelly
Ch. Sterling Omega's Affection WC
Ch. Evensong Dash x Ch. Casablanca's Charisma JH, WCX
by Brent Baharie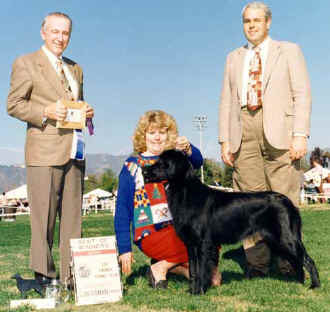 Is the name picked to fit the dog, or does the dog grow to fit the name? In either case affection is the perfect name for my 2 year old FCR bitch we call Kelly. Kelly is bundles of energy and lots of affection all wrapped up in a pretty black package.
Kelly came to live with us shortly after thanksgiving 1995. She is the daughter of CH Evensong's Dash and CH Casablanca's Charisma-JH. From puppyhood Kelly has been a bundle of energy. I was told she was the first of her litter to negotiate a 2-foot high fence by climbing over it a talent she has now perfected with 5-6 foot fences. She was also the most tenacious in her litter with the clipped wing pigeons that Uncle Frank put in her whelping box at the ripe old age of 4 weeks.
As a puppy Kelly was strong willed at our house and although over 5 years younger than my male after some adjustment in winning him over soon established herself as boss. She soon had the boys (hunter and Jake) eating out of here hand and doing all her bidding for her. And me, well of course I would never spoil her by letting her sleep on the bed or anything (HA HA HA). Kelly's affectionate way and strong desire to please has made her easy to train, which is after you get past her stubborn streak.
Kelly started here show career at the ripe old age of 7 months and took a reserve winner at a supported entry at the mission circuit in 1996. She might have done better if she could have been untangled from between Adrienne's legs looking for me, but once I figured out I better stand in a different county while she was showing things went a lot better. From May 1996 to the present (Sept 1997) Kelly has been in 11 shows. She has been winners bitch or best of winners 8 times and reserve winners twice and that includes a 5 point major at Los Encinos when she was 14 months old. What was the other time you might be wondering, well it was at the 1997 National Specialty where she was third of 14 bitches in the breed by class. Kelly has done well for herself in the show ring and I hope Adrienne doesn't yell at me again for bragging!
Kelly's intense Birdiness and desire to please have made her excellent in the field too. Obedience training force fetching, etc were all a breeze because of her strong desire to please me. She is a dynamite marker and hunts well with her nose too. While I have not had the time to enter her in the number of hunt tests I might have liked to she has done very well with the level of training I have given her, and is always FLASHY. She got her working certificate at the National Specialty in Minnesota after just one week of practicing counting to 2. My little loving girl sitting here at my side now as I type took a best opposite sex over specials 2 weeks ago, yesterday (the opening day of dove season) she retrieved 20 doves (2 hunter's limits) what more needs to be said? Beauty, brains and she loves her dad!!
Owners: Brent Baharie, Adrienne Aylem and Peachie Orton
Breeder: Adrienne Ayles and Peachie Orton

Updated 09/27/98