FLATCOAT.COM
Home Page
Send us E-Mail
Presenting the Dogs

History of...
Omega Retrievers
Sterling Retrievers
Flat-Coated Retriever

The Adventures of...
Quail Hunting
Duck Hunting
Dog Show

Buying a Flat-Coat
FCR Pros and Cons
Finding a Breeder
Questions to Ask
Health Clearances
Dog Contracts
The Standard

Training Tips
Show Ring
The Field
Crate Training

FCR Heatth
Flat-Coat First Aid
What is Giardia?

Flying your FCR

FCR Movement

The Whelping Box

Favorite Links
flat-coated retriever puppy flatcoated retriever pictures flat coated retriever puppy flat coat photos flatty flat-coated dog breeder akc breed judge akc licensed judge sporting group judge best in show best of winners winners dog winners bitch dog show golden retriever grcgla grca labrador retriever canine akc retriever hunting test judge master hunter senior hunter junior hunter akc hunting test program working certificate excellent field training dog obedience training dog training cdx utility dog excellent ud udx agility dog excellent ad adx whelping box crate training sterling and omega kennel club of riverside kennel club gwfcrc great western flat-coated retriever club fcrsa frank holbert adrienne ayles roger orton peachie orton bunky orton ontario california yucaipa california southern california
Grinner
Ch. Omega Sterling Best Smile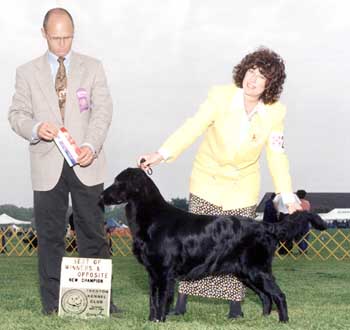 Ch Rockyhill's Ropin The Wind x Ch. Athercroft If Rooks Could Kill
by Ann McCall
About two years ago a very dear friend of mine, Lisa Weiss, and I were talking dogs and the topic of flat-coated retrievers came up. Neither one of us knew that the other had an interest in the breed. Then several months later (and many discussions in between) we met up with Roger Orton at a Labrador Retriever Specialty show in Flint, MI. We expressed our interest in purchasing a puppy from his breeding. Again, a few months had passed and we got word that there was a puppy bitch for us. When Lisa told me I was on cloud nine. But since the weather in California was so hot the Orton's couldn't ship "Grinner" (Omega's Sterling Best Smile) until the heat wave broke. Well the day finally came. We received our little girl and what a girl she was....happy, oh so sweet and knock out gorgeous! In no time at all she got used to living with Labradors.
At seven months of age I entered the Boston Cluster and in three days picked up 4 points. On the first day she wasn't to sure about everything that was going on. But by the third day she was waiting outside the ring saying to herself, "Is it my turn yet?" We have since entered her in Somerset, Tuxedo Park and Westchester. To date she has eight points towards her championship. Lisa and I have nick-named her "Grinner The Winner!"
As far as her personality goes we think she is the sweetest thing in the world. She is more high spirited that the Labradors I have, and very fine tuned to everything that is going on around. That beautiful head of hers is always turning to look at something, afraid she might miss something. She wakes up and goes to sleep at night with only one thing on her mind....retrieving. And 95% of the time she beats the Labradors. She is ever so willing to please and learn, and approaches every day in a very comical way. She loves kids and is ever so gentle with them.
I have enjoyed the year we have had "Grinner" so much that I can't imagine what our lives would be like without her. She is an absolute love. Thank you Peachie and Roger for sending this wonderful girl to us.
Owner: Ann McCall, Lisa Weiss, Peachie Orton and Adrienne Ayles
Breeder: Peachie Orton and Adrienne Ayles

Updated 09/27/98